ITTgirl couture Resellers are...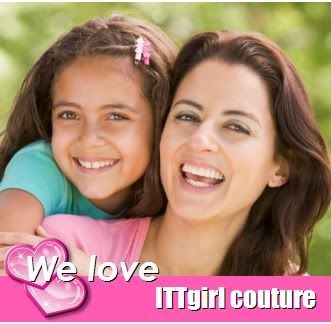 ITTgirl couture Resellers are girls and women of all ages, who want to make extra money doing what they love--being fashionable!

ITTgirl couture Resellers are Tween / Pre-Teen, Teen, and Young Adult Girls, Mother-Daughter Teams, touring Musicians, Grandmothers, Community Leaders, out of the home working Moms, work at home Moms, Church Leaders, College Students, touring Speakers, Teachers / Professors, Hair Stylists, Baby-Sitters, and more!!!
Q: How much extra money can I make?
ITTgirl couture Resellers make a minimum of
50% profit on every item sold ! ITTgirl couture Resellers buy our products at special discounted rates. Then sell them to their family, friends, community (and to themselves) at whatever price / profit they choose !
Q: How do I get started?
1) Browse our current Reseller Products

2) Decide which products you would like to start selling. Decide what increments (ex.- 10, 25, 50, 1,000, etc.) of each product(s) you would like to start building your sales inventory with.

3) Order via our Online Checkout system (credit cards, debit cards, checks, and/or money orders are accepted)

4) Once you receive your ITTgirl couture Products in the mail, you decide how you want to make extra money and when! Oh yeah, PLUS ITTgirl couture Resellers get FREE SHIPPING on all of their orders!

5) When you need more ITTgirl couture Products to sell, simply repeat the process!
Q: I'm not really business savvy, but I would like to become an ITTgirl couture Reseller! Is any type of business coaching available?
1) If you ever have any questions regarding the ITTgirl couture Reseller program, don't hesitate to contact our Office! Click here to send us an e-mail.

2) When you become an ITTgirl couture Reseller, you are automatically added to our Mailing List. Mailing List Members receive helpful sales tips in their e-mail, fyi's on new product lines available for resale, answers to Reseller FAQ's, special product discounts, and much more!
>>> Browse our current RESELLER PRODUCTS
tags: itt girl couture ittgirl couture ittgirlcouture ittgirl.com, couture glam glamourous decorative fancy designer headbands hair accessories, tweens pre-teens teens young adults girls women, wholesale whole sale resellers retailers at home at-home stay at home stay-at-home mom mother daughter family internet net web-based sales business opportunity, how to make extra money income cash
>>> SHOP the 2 Headbands for $5 SALE !!!